INSANITY NEVER SLEEPS (Third edition)
(New cover)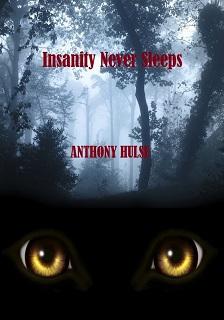 This is a rewrite of a book, I wrote some twelve years ago. Due to mass interest, I have published it again, and also have written a sequel. A normally mild mannered man becomes the most notorious serial killer of modern times. Billy Woods unconsciously murders the daughter of a local gangster and he is pursued across Turkey and Crete by the vengeful family and the police. Ruth Vickers, a detective with CID becomes infatuated with catching Woods and joins the manhunt. A brutally, blood curdling read that is a guaranteed page turner.
******

REVIEWS
*****
Another cracker from Anthony!!
This is the second novel by author Anthony Hulse. I read his first, Nurtured Evil and I found that deliciously disturbing. This is no exception. A full bodied book just packed with wondrous characters and murder. Anthony is a master at the more sinister side of life and this book will definitely not disappoint.
Simon Murphy (Author of The Valentine Rose & The Murders Of Mutchrose Village).

******
*****
Insanity Never Sleeps, 31 May 2014 By Hunter S. Jones (Atlanta, GA) -This review is from: Insanity Never Sleeps (Paperback)
Superb read from talented writer. fast paced and frightening, withsuch an array of interesting characters. I did not want this book to end.

By Nic. I loved this book. Read it quite a few years ago in paperback. Just bought them again for my Kindle. Fab author.

*****
By "Jen The Riot" (Houston, TX)

GRIPPING THRILLER!

The life of Billy Woods becomes complicated when he finds his wife in the arms of another man. His growing hatred of women, his financial worries and his recnt loss of employment combine to turn this man into a notorious serial killer. Well paced and such a unique plot. This book totally captivated me!
***** Five Stars, July 28,2014 By mmattie
great
***** Breathtaking, 19 Mar. 2015

By tom elder

Format:Kindle Edition|Verified Purchase
Anthony Hulse.
Breathtaking
Insanity Never Sleeps.
WARNING: Not for the squeamish, if you liked James Patersons Alex Cross books you will love this book. I think it is better than Alex Cross so that in itself is saying something. From the very start to the last page this book will keep you on edge. It's very well written and descriptive, you can actually believe you are right there. This author is well on his way to being one of my favourite authors.
5 stars. 19 March 2015.
EPUB E-book: http://bit.ly/1Gj1Ld0

Amazon.com Kindle: http://amzn.to/1O9tyTB
Amazon.com paperback: http://amzn.to/1EkN5zO

Amazon UK Kindle: http://amzn.to/1eZ6t9V
Amazon UK paperback: http://amzn.to/1Skyo0T

******
ISANITY NEVER SLEEPS II

The resurrection

(Second edition)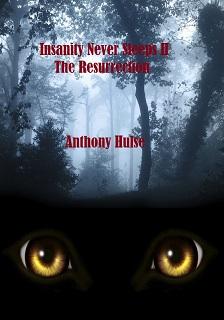 Three years after the supposed death of prolific serial killer, Billy Woods, a spate of identical murders occur in Cleveland. A couple, island hopping in Greece, claim they saw Billy on Anafi. Is there a copycat killer or could Billy possibly be still alive? Ruth Vickers, now a uniformed police officer after her demotion, becomes involved once more with tracking down the monster. She is unaware that due to her unnatural fixation with Woods, she is slowly losing her mind. A terrifying sequel, even more frightening than the original. A fast moving psychological thriller that will mesmerise you! Not for the squeamish!
******

Reviews
*****
Does Not Disappoint!
,
31 May 2014
By Hunter S. Jones (Atlanta GA)

This sequel did not disappoint. Billy Woods the notorious serial killer is

back! I read this in one sitting. A brilliant, s
uspenseful and intriguing book.


******
*****
Frightening Yet Absorbing Sequel! 4 Jun 2014 By "Jen The Riot" (Housten, Tx)
Mainly set on the island of Crete, this story is both atmospheric and well-paced. I simply did not want to put it down. If you like twists and are a fan of gory thrillers, then it doesn't come any better than this. You won't be disappointed!


******
*****

Five Stars, July 28,2014 By mmattie
Great

******

Book 2 March 23, 2015

By tom elder

Format:Kindle Edition

Anthony Hulse
Book2
Insanity Never Sleeps 2.
If like me you've read the first book, then you'll love this book, it's terrifying.
Is Billy Woods alive or dead ?. Follow Ruth Vickers in her quest to solve this mystery, but be prepared for some gruesome findings along the way. Highly recommended book, it's a pity you can only award 5 stars to a book that deserves so much more.
5 stars. 23rd March 2015.
******
Lulu Paperback : http://bit.ly/1JfbR0w

EPUB E-book: http://bit.ly/1O3suQG

Amazon.com paperback: http://amzn.to/1TzExsG

Amazon.com Kindle: http://amzn.to/1K44KOj

Amazon UK paperback: http://amzn.to/1HrLneb

Amazon UK Kindle http://amzn.to/1Leh0KL
******