Apostle of the Tyrants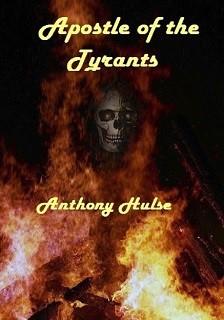 Disgraced soldier, Jack Foley is summoned to York by his eccentric ex-father in law, Professor Charles Fanshawe, who is convinced that someone is replicating Hitler's initial atrocities. He persuades Foley to investigate, with the lure of half a million pounds. Foley teams up with German journalist, Monica Ritter, and they are caught up in a series of gruesome murders, which leads them on a quest for the killer. The professor discovers that his original theory was wrong, and now believes that the killer's motive is far more frightening than he could have imagined. When her father disappears in Rome, Jessica, Foley's ex-wife becomes involved with the manhunt. Together, the trio unravel a complex plot, and a list of suspects is suggested in a coded book by the professor. Interpol Captain Nino Bartoli becomes involved in the investigation, and suspicion falls on Foley. A horrifying sequence of global murders follow. A complex and terrifying book that will leave you guessing the identity of the killer.
******
REVIEWS
*****
5.O out of 5 stars Loving Anthony Hulse 31 May 2014
By Anari (UK)
Another great read for Anthony Hulse. The identity of the deranged and sadistic killer is not revealed until the final pages. Pacy, absorbing, and with a few codes to crack. I loved this.

******
***** On a scale of 1 to 5, this book gets a 6 star rating., January 30, 2015
By
eBook Reviewer
This review is from: Apostle of the Tyrants (Paperback)
Hulse's method of storytelling keeps me spellbound. I soon forget that I'm reading a book, and find myself personally involved in the story. I love to accompany his characters and enjoy the sights, sounds, and smells as I tag along. Apostle of the Tyrants is more than an action packed thriller. It's a story of murder, terror, brutality, mystery, and romance, all wrapped up in an undercurrent of unspeakable horrors that are strong enough to spark the most worrisome of nightmares. The story contains an action scene that depicts an old woman, an old man (a farmer), and their dog…that is so poignant, I shall remember it for the rest of my life. Such is the power behind Hulse's storytelling. Anthony Hulse once again proves his talent as a superior writer, by giving us Apostle of the Tyrants. I totally enjoyed every page of this book. However, I felt like giving Hulse a good swift "love/hate" kick to his backside, for writing such a brilliant ending to a thrilling story.
******
Paperback: http://bit.ly/1MQq8WP

EPUB: http://bit.ly/1Oygff4
Kindle UK:http://amzn.to/1MTtW7H
Kindle.com: http://amzn.to/1HXJTbK

h
******
Shadow of the Redeemer
Suspected serial killer Daniel Sugrue is found hanged By DCI Virgil Dodd. The case is closed and Sugrue's wife, three sons and daughter are secretly relocated in Cornwall. DCI Dodd retires, but a series of sadistic murders identical to the ones in Cleveland follow. Suspicion falls on the three sons, and with the help of journalist Sean Foy, who plans to write a book about the notorious murders, the two men decide to investigate. DC Sadie Dunlop goes undercover in order to befriend one of the sons, Jacob, who is the prime suspect. They become romantically involved and Sadie doubts his guilt. More suspects are introduced, including a senior detective who had a homosexual affair with Daniel Sugrue, and DCI Dodd, who it transpires is obsessed with the murders. A complex, frightening book with an ingenious scenario. This story will leave you guessing the identity of the serial killer until the conclusion.
******
Reviews
***** Could not put it down
By RNolen on October 30, 2014
Format: Kindle Edition
The retired Detective Chief Inspector Dodd thought that the hunt was over for the horrible serial killer when they found the suspect hanging from the rafters with his latest slaughtered victim nearby. But then more victims were found. Which meant that the killer had a partner. But who could it be? One of his sons? When the family changed names and moved south to Cornwall to escape the media frenzy, more murdered girls began turning up nearby. When they went on vacation to Wales, another girl was murdered. Of course it must be one of the three sons, but who? The plot thickens and more suspects are added to the list. I could never determine who the perpetrator was. There wasn't just the sons, someone in the police department with knowledge of the details could be copy-catting the murderer. Two police officers, including Detective Chief Inspector Dodd, become suspects for the reader. This is a fast-paced read. The suspense will not disappoint.

******
Paperback: http://bit.ly/1h24WkM

EPub: http://bit.ly/1JNJuXL

Kindle UK: http://amzn.to/1U3D3XR
Kindle.com: http://amzn.to/1Kv2f7R