INSANITY NEVER SLEEPS (second edition)
http://www.lulu.com/product/paperback/insanity-never-sleeps/18775362
This is a rewrite of a book, I wrote some eight years ago. Due to mass interest, I have published it again, and also have written a sequel. A normally mild mannered man becomes the most notorious serial killer of modern times. Billy Woods unconsciously murders the daughter of a local gangster and he is pursued across Turkey and Crete by the vengeful family and the police. Ruth Vickers, a detective with CID becomes infatuated with catching Woods and joins the manhunt. A brutally, blood curdling read that is a guaranteed page turner.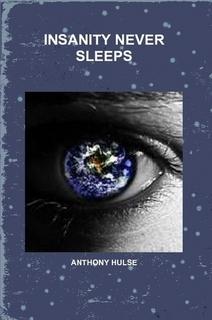 INSANITY NEVER SLEEPS II The resurrection
http://www.lulu.com/product/paperback/insanity-never-sleeps-ii-the-resurrection/18775955
Three years after the supposed death of prolific serial killer, Billy Woods, a spate of identical murders occur in Cleveland. A couple, island hopping in Greece, claim they saw Billy on Anafi. Is there a copycat killer or could Billy possibly be still alive? Ruth Vickers, now a uniformed police officer after her demotion, becomes involved once more with tracking down the monster. She is unaware that due to her unnatural fixation with Woods, she is slowly losing her mind. A terrifying sequel, even more frightening than the original. A fast moving psychological thriller that will mesmerise you! Not for the squeamish!